Glide's patent-pending GSS coating, or Glide Surface Shield, is a VOC free polymer that has been developed to create an extremely durable coating that withstands damage caused by rocks, debris, abuse, paddle strikes, and drops. Our non-polluting SUP boards are coated with the GSS giving them a unique rough texture finish that helps to break the surface tension and decrease the drag that is caused by the polymer's elasticity. SUP boards coated with GSS are perfect for River, Flat-water, Family, Touring, and Recreation uses. This Glide exclusive coating will not chip, flake, or fade under normal usage. The GSS coating will give you the peace of mind that your investment is protected, no matter the conditions.
 GSS contains no harmful cancer causing VOC's and is formulated to bond to our bio-resin coated fiberglass underlayment limiting delaminating and defects. Unlike boards that are manufactured using epoxy paints that may contain up to 11 different Volatile Organic Compounds. The boards that are coated overseas carry no guarantees that the VOC's that are emitted will not continue to be released into our waterways and environment. Paint chips that are released from paddle strikes and impacts can continue to emit these harmful compounds for up to 2 years into our streams, lakes and oceans.
Supconnect's article about GSS, May 30, 2013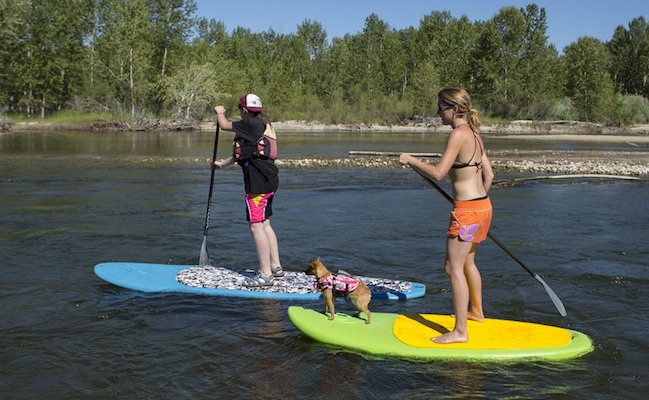 A positive trend is afoot nationally with GlideSUP indestructible boards and their groundbreaking rental fleet program.
SALT LAKE CITY, Utah - Nothing takes the luster off a paddling excursion faster than a beaten up, waterlogged "SUP board" with the general maneuverability of an aircraft carrier. Yet this is what one gets at the vast majority of rental fleets across the country today. Case in point: 3 friends set out in Laguna Beach last Thursday who were in town for the grand opening of Paddleboard Bliss' retail shop in neighboring Newport Beach. It was a classically gorgeous Southern California day with perfect waves and a 68-degree ocean proving too much to resist. A rental shop was located, money changed hands, Heinz Ketchup-like anticipation was suffered through and then….well, the boards were brought out. Giant slabs of ice chest-grade foam masquerading as SUP boards. One of the three guys actually said to the store clerk "You cannot possibly be serious." The net score at the end of this saga was zero waves caught and 3 ticked off consumers barraging social media with negative comments and reviews. 
Unfortunately this sort of rental experience is anything but uncommon and it does our tightly knit ecosystem no favors in the process. SUP is indeed the fastest growing water sport on Earth but let's be honest here, it's no fun on a board that's falling apart. While it might be easy to blame rental operators, the reality of the situation is that they have a businesses to run and need a paddleboard that can withstand a lot of wear and tear!
A positive trend is afoot nationally however as GlideSUP, known internationally as makers of high performance, indestructible boards handcrafted in America, have been gaining impressive traction across the country with the company's groundbreaking rental fleet program. For those unfamiliar with GlideSUP, the indestructibility of their boards is well documented and comes as a result of the patent pending Glide Surface Shield (GSS) technology invented by legendary shaper and Glide founder/VP of Design Ken Driscoll. What exactly is GSS? Essentially it's a cocktail of boutique Polymers applied to the surface of Glide boards through an intensely delicate process of heating and cooling. In its 6th iteration since Driscoll's epiphany back in 2008, the GSS process is so highly refined that boards with this coating are no heavier or any less maneuverable than non GSS boards. 
If you're a rental shop, Glide GSS boards are definitely something to look into and if you've never ridden a Glide board, then get out and try one for yourself! They offer boards in every sub category including recreational flatwater, surf, yoga, whitewater and race. But money talks and it's the ROI that has rental operators nationally signing up for the Glide fleet program. High performance boards impervious to the rigors of rental abuse, are you kidding? Add to this a team of business and creative minds that really care and Glide value is impossible to ignore. More than these benefits however is the marketing gold that results from positive customer experiences courtesy of Facebook, Instagram, Yelp et al. 
About Glide SUP:
GlideSUP is based out of Salt Lake City, home to the largest SUP manufacturing facility in all the Americas. For more information please visit www.glidesup.com
-Article by Suppconnect, May 30, 2013
http://supconnect.com/news/sup-weekly-recap/positive-trend-afoot-with-glide-indestructible-boards